Amy Angel
---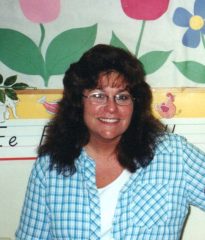 Amy Sue Angel
05/06/64 – 04/22/23

On April 22, 2023 Amy Angel, beloved wife, mother, and friend passed away at the age of 58 years young. Amy was born on 05/06/1964 to Eugene Coverstone and Jean (Grover) Coverstone at Whitney County hospital. She was a life long resident of North Webster, Indiana.

She was a graduate of Wawasee highschool class of 1982. Most of her working career was spent at Group Dekko, although her favorite roll and job title was "Mom." She was blessed to have 15 years in the middle of her 20+ year career at Group Dekko to stay at home and raise her children.

Amy married her life-long partner, Jon Angel on April 3, 1987 whom she would spend the next 36 years alongside. They went on to have two daughters, Haley and Hanna.

Amy was predeceased by her parents Eugene and Jean Coverstone. She was survived by her husband Jon Angel, her daughters Hanna Angel and Haley Angel-Gilbert, her son-in-law Grant Gilbert.
Forever remembered by her three brothers Stuart Coverstone and his wife Jan, Steve Coverstone and his wife Laura, Scott Coverstone and his wife Kathy, her brother-in-law Jack Angel and his wife Sandy, and her sister-in-law (and partner in crime) Jan Beezley, in addition to her 8 neices and nephews, and many more.

Amy was a wild spirited soul with an incredible sense of humor. She loved being in her kitchen. Whether it was to craft the perfect pot of chili, or her unbeatable potato soup… or to simply socialize, you could most likely find her in the heart of the home. She enjoyed sitting by a good campfire late into a summer evening with Jon, her girls, and friends. She was known for making people laugh with her quick witted responses, and always providing a crowd pleasing snack or appetizer.

Amy was a beautiful person from the inside out. She would often engage in conversation with strangers out in public in such an endearing way that you'd ask afterward "Did you know them?" "No." She would smile and carry on. To have known Amy was to love her. The memories, wisdom, and joy she brought to everyone in her lifetime will never be forgotten. She is already so dearly missed.

Family and friends are invited to attend a celebration of life, which will be held at the North Webster American Legion post 253 on June 17th at 2:00-5:00pm. More details of the event will be posted on the family's Facebook accounts.  Eastlund Funeral Home is handling arrangements.