Barbara Beemer
---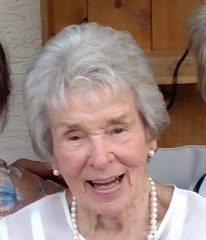 Mrs. Barbara K Beemer passed away November 9, 2022 and now rests with her beloved husband of 63 years, William K Beemer who preceded her in passing..  Born June 18, 1927 to her parents, Dorr, and Ruth(McGuffey) Keplinger in Markle ,Indiana, she spent her early years in the Markle area where she enjoyed the company of her brother and sister, Richard Keplinger and Carolyn Keplinger (Pfohl), both of whom precede her in death.  Their days were spent at the Markle quarry swimming, ice skating on the Wabash River and roller skating at the local rink.
     She graduated from Markle High School and attended Purdue University before returning to Marlkle where she worked a number of varied jobs in the area.  She met her lifelong love, William Beemer and they eventually wed in August of 1949.  They lived in Nappanee, Indiana for several years before moving to the shores of Lake Wawasee in Syracuse, Indiana.  Here they raised their daughters, Cindi L. Beemer(Wells) and Constance K Beemer(Nitsch), while she managed the busy household.  Many wonderful days at the lake with visiting parents, grand parents, cousins, aunts and uncles all enjoying the lake were to follow.
     While living in Syracuse Barbara was involved in may community activities through her church and civic groups.  She was an avid golfer and long time member of the Maxwellton Women's Golf Association.  She continued to be active in the community until late in life working in the church thrift shop and assisting with other church activities.  During her life she mourned the loss of a great grandaughter-in-law and great great granddaughter.  She is survived by her two daughters Cindi L Wells of Syracuse IN and Constance K Nitsch of Kalamazoo, MI along with six grand children and 2 great grandchildren.
     Barbara will be remembered as a loved and cherished daughter, wife, mother and grandmother who loved her family and life dearly.  Her cheerful demeanor and thoughtfulness will never be forgotten and will be missed by all who knew her.  There will be a graveside service on Monday, November 14, 2022 at 1 PM at the Markle Cemetery in Marlke, IN.   Memorials and donations can be made in her honor to WACF or the Cancer Care Fund of Kosciusko County.  Eastlund Funeral Home is handling services.