Dr. William L. Meyers
---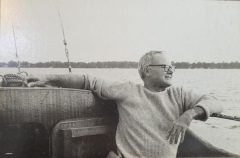 William L. Meyers, M.D., ninety-five years old, died peacefully at home the night of September 11th, 2023 in Syracuse Indiana.
William (Bill) was born on November 21, 1927 in Chicago Illinois to Lillian (Pence) and William A. Meyers.  When Billy was eleven his mother died and the family moved to a farm near Peabody, Indiana. Bill graduated from Columbia City High School in '46 and then enlisted in the U.S. Army, serving in the 19th infantry in Beppu, Japan. With the help of the GI Bill, he attended Indiana University, graduating in 1952.  He went on to work as a reporter, first for the Columbia City Post and then for the Fort Wayne Sentinel. In 1953, he began work building boats for Ab Crosby, and later went on to start his own boat building business, Meyers Marine.
In 1957 he married Mary Cousins, from Osseo Michigan who preceded him in death in 2007 after 49 years of marriage.  As newlyweds Bill and Mary settled in Syracuse, Indiana where he started Transcender boat company. One day he saw a photograph of a surgeon and wondered "What could a guy do better with his hands than that?" Bill sold his business and went back to school to become a doctor.  Finishing med school in '65, he interned at Akron General in Ohio and then moved back to Syracuse where he ran a general medical practice for twenty-four years until his retirement in 1990.
Bill enjoyed an active life. As a student at IU he rode in the little 500 bicycle race.  From 1986-90 Bill raced in American Power Boat Association's mini grand prix class races. Later, in 1991 he got his Kentucky Thoroughbred Trainer's License and took up horse racing with his homebred foal, HayBabyAttaboy,  and also served as seasonal track doctor at Ellis Park near Evansville, IN from '92 until truly retiring in 1996.
Bill will be dearly missed by his brother Michael Meyers; sisters: Barbara McNagny, Jennifer Frank, and Lisa Nierman; his daughters: Anna (John) Monaghan, Emily Meyers, Natalie Meyers(Craig Cooksey),  Aeriel Meyers(Tucker Kable);  his grandchildren: Jonah Mullet, Leia Munn, Liam & Grahm Monaghan; as well as his great grandchildren: Scout Bales, Johvanni Munn, and Lukkah Perry. Bill was preceded in death by his infant son Damien Meyers and grandson Martin Munn.
Services will be held Saturday, September 16th at 2 pm at Eastlund Funeral Home with pastor  Brad Cox officiating. Visitation will be 2 hours prior to the service from noon until 2pm, with burial to follow at McClintic Cemetery.
Memorial contributions may be made to Cystic Fibrosis Foundation www.cff.org/donate Condolences may be sent to www.eastlundfuneralhome.com