Erika Esenwein
---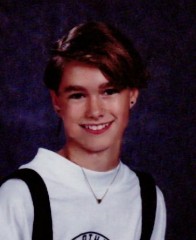 Erika Suzanne Esenwein, 31, passed away February 16, 2010 at the Camelot Care Center in Logansport as a result of injuries sustained in an auto accident in 1995. She was born December 18, 1978 in Goshen, IN to Philip and Stephanie (Clouse) Esenwein. Erika was a basketball player at Wawasee High School, where she was also a graduate. She also enjoyed water sports.
Erika is survived by her parents, Philip Esenwein nd Stephanie Esenwein, 1 Sister – Amber Esenwein, 1 Brother – Jon Esenwein, her grandmother Mary Plymale, and 2 nephews – Jon and Lucas Esenwein.
Visitation will be Thursday, February 18 from 4-8 PM at the Eastlund Funeral Home, Syracuse.
Services will be Friday, February 19 at 11 AM at the funeral home.
Burial will be at the North Webster Cemetary – Mock Addition. Memorials may be made to Camelot Care Center, Logansport.