Joan E. Wagoner Beall
---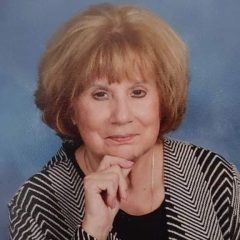 Joan Ellen Wagoner Beall, 81, of North Webster, IN passed away at 12:02 p.m. on Friday, August 4, 2023 at Goshen Hospital. She was born on March 14, 1942, in Huntington, IN to Kermit L. and Olive M. (Smith) Funderburg.
She attended Huntington Community Schools for 11 years and then graduated in 1971 from Wawasee High School in Syracuse. She graduated in 1974 from Grace College in Winona Lake and received her Masters Degree in 1979 from Indiana University in Fort Wayne. She was raised in Huntington and moved to North Webster in 1959 where she resided until 1988 before moving to Goshen / Millersburg area.
She was formerly married to Woody Wagoner and then was married on April 10, 1987 in North Webster to Richard L. "Dick" Beall who preceded her on November 29, 2020. She retired in 1993 as a First & Second grade teacher at Millersburg Elementary School after 16 years and also taught at Polk Community Schools in Florida for 10 years. She and her husband retired to Lake Wales, FL in June 1993 and then returned to the Syracuse / North Webster area in 2005. After returning to the area she worked as a greeter / hostess for Owen Family Funeral Homes for several years.
She formerly attended the North Webster Church of God, Goshen Church of God, and Calvary United Methodist Church in Syracuse. She was a former member of the National Educators Association, Polk County Florida Educators Association, and Indiana State Teachers Association.
She is survived by:
Daughter- Kimberly J. (Richard) Owen of North Webster
3 Sons- Rev. Mark A. (Lisa) Wagoner of Neon, KY, Matthew L. (Terri) Wagoner of North Webster, and Mitchell D. Wagoner of Syracuse
15 Grandchildren – Lindsay (Fred) Kreps, Melissa (Cory) Sidel, Michelle (Gabe) Burns, Amy (Scott) Farmer, Joshua (Jennifer) Wagoner, Kristen (C.J.) Coy, Jamie Elliott, Matthew Wagoner, Jeremiah (Lindsay) Wagoner, Alex (Autumn) Owen, Cassandra Wagoner, Bradley Wagoner, Katie Cockrill, Zach Wagoner, Jennifer (Derek Grim) Wagoner
33 Gt. Grand & 3 Gt. Gt. Grandchildren
5 Step Children – Wayne Beall, Connie (Vernon) Graber, Marlene (Loren) Hershberger, Al Beall, and Paula (Terry) Price
Several Step Grand & Step Gt. Grandchildren
She was preceded in death by her parents, grandson – Robert A. Owen, and 3 sisters- June Niemann, Mary Lou Bennett, and Lois Watkins.
Visitation will be from 4:00 -7:00 p.m. on Tuesday, August 8, 2023 at Eastlund Funeral Home, 7458 E. 1000N, Syracuse, IN and 1 hour prior to services on Wednesday. A Celebration of Life Service will be held at 11:00 a.m. on Wednesday, August 9, 2023 in the Church of God, 302 N. Main St., North Webster. Burial will follow in the North Webster Cemetery.
Preferred memorials may be given to the Church of God Youth Fund, P.O. Box 313, North Webster, IN 46555 or New Hope Pet Rescue 72555 Country Road 29, Syracuse, IN 46567. Condolences may be sent to www.eastlundfuneralhome.com