Joann Vock
---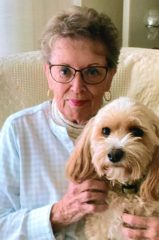 Joann (Jo) Vock, 86, passed away peacefully June 17, 2023, surrounded by her family at her home on Lake Tippecanoe.   Jo was born May 26, 1937, to David and Elsa (Carlson) Anderson in Woodstock, Illinois.  She was confirmed in the Lutheran Church and lived in Woodstock until her marriage to Donald Vock on September 20, 1975.  Jo and Don were life partners in love and adventure until his passing in 2017.  They had homes in Barrington, St. Charles and Batavia, Illinois until moving to their retirement home on Lake Tippecanoe where Jo loved living the lake life.  Always excited to host family and friends at the lake, it didn't matter if you were coming from far way or just a neighbor dropping by to say hello, Jo always made everyone feel welcomed and special.
Jo will be lovingly remembered by her sister and brother-in-law Ruth and Curt Schacht. Leesburg, IN. Nephew David Schacht and wife Tina of Elmhurst, IL, nephew Paul (Boomer) Leesburg, IN.  Three stepchildren she loved as her own, stepdaughter Dawn Thomas Ocean City, MD.  stepdaughter Eve Veljasevic and husband Zoran (Vic), Island  Lake, IL.  stepson Mark Vock, of Bessemer, AL. brother-in-law Harold Vock of Itasca, IL. 12 grandchildren, 18 great grandchildren, loyal companion Pickles and several nieces, nephews, great nieces, great nephews, cousins and dear friends.  In addition to her parents and husband, Jo was preceded in death by her stepdaughter Launa Reith and brother-in-laws Ralph and Raymond Vock.
Jo wanted her family and friends to know that she "had a good life, a very good life."   Come celebrate Jo's life and share memories, Saturday, July 8, 2023, 1-4 in the afternoon at Jo's home.
In lieu of flowers, donations may be made to:
Animal Welfare League, of Warsaw,IN, or New Hope Pet Rescue, of Syracuse,IN.