Mary Mock
---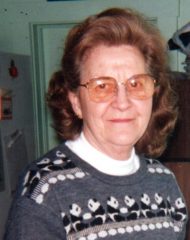 Mary Mock, 97, Syracuse, died at Goshen Hospital on September 30, 2022
She was born February 21, 1925, to John Edward and Hazel Kitchen, Rome City, Indiana. She attended Rome City High School. On August 8, 1942 she married Thurlow Mock. He preceded her in death on September 16, 2006.
They had two children Patricia Martindale (Larry), Syracuse, IN., and Steve Mock (Georgie), Logansport, IN. Steve is deceased.
She had 5 grandchildren. Christine Hodge of Fort Wayne, Cherie Sweatland (Steve) of Syracuse, Craig Martindale of Syracuse, Matthew Mock (Tuesday) of Fort Wayne, and Joshua Mock of Logansport. She had 7 great grandchildren.
She had two sisters. Helen Kern (Herbert) of Lagrange, Phyllis Miller, Fort Wayne, and one brother, Robert Kitchen (Ione) of Rome City, who all preceded her in death.
Her passions were gardening, fishing, and baking. She was a homemaker, farmer and food server at Oakwood for five years. She belonged to the Hi Neighbor Club and Good Will Extension.
She was a member of the North Webster Church of the Brethren.
Services will be held on Wednesday, October 5, 2022 at 11 AM at the Eastlund Funeral Home. There will be 1 hour of calling from 10-11 prior to the service.
Burial will follow at the Syracuse Cemetery.
Condolences may be sent to the family Eastlundfuneralhome.com
Contributions may be sent to the North Webster Church of the Brethren.