Suzanne Keck
---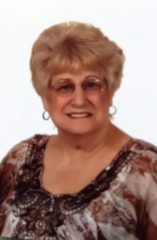 Suzanne (Suzie) Holcomb Keck, age 76 of Warrenton, GA and formally of Syracuse, IN went home to be with the Lord on Dec 23 in Thomson, Georgia. Suzie was a native of Hagerstown, IN and later moved to New Castle where she graduated from Mt. Summit High School. After marrying George Keck, she made her home in Syracuse and later retired from Dana Corp after 30 years of service. After George's passing, Suzie had a calling and moved to Oklahoma to attend Rhema Bible College where she earned her 2 year degree. After graduation, she moved to Georgia and continued to share her faith.
She was predeceased by her husband George Keck of Syracuse, IN, and parents, Wayne and Edith Holcomb of New Castle, IN. Survivors include her sister Virginia Wagner (Richard) of Connersville, IN; brother Arnold Holcomb (Kathy) of Norwood, GA; nephews Aaron and Shawn Wagner, Eric and Phillip Holcomb and neice Adrianna Gomez; step children, Randy Keck, Cindy Slabaugh and Tammy Walton all of Syracuse and her best buddy Penny.
In lieu of flowers, please make donations in Suzie's memory to The Gideons International or to the charity of your choice.
Visitation will be held on Sunday, December 30, 2018 from noon until 2 PM at the Eastlund Funeral Home.  A graveside service will immediately follow at the Syracuse cemetery.